Water droplets are beautiful, aren't they? They represent some natural, essential kind of beauty. That is why it is a good idea to make such manicure, which will be nice and pretty, no matter the occasion.
Before we start the tutorial, make sure you have everything mentioned in the checklist. Polish colors and stuff do not have to be exactly the same. Just try something similar if you want any difference.
You might need:
2 different colors of chameleon nail polishes (we use ones by DanceLegend);
Simple black nail gel polish (we advise Kodi);
Gel top coat for nails;
Base nail coat;
LED nail-drying lamp (you may also use an UV one);
Dotting tool;
Cotton swabs and acetone.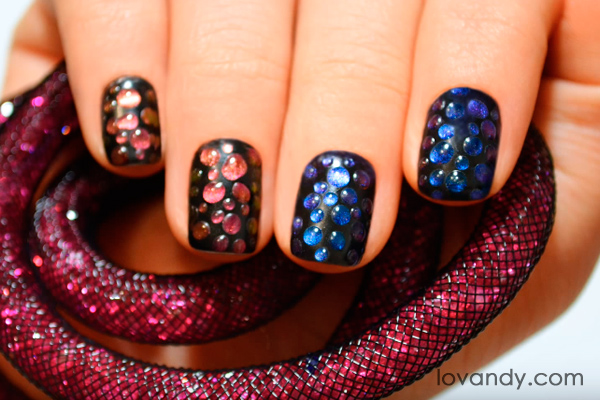 This manicure looks really beautiful and hard to make. However, you will see through this tutorial that there is no rocket science here, while the result is actually magnificent.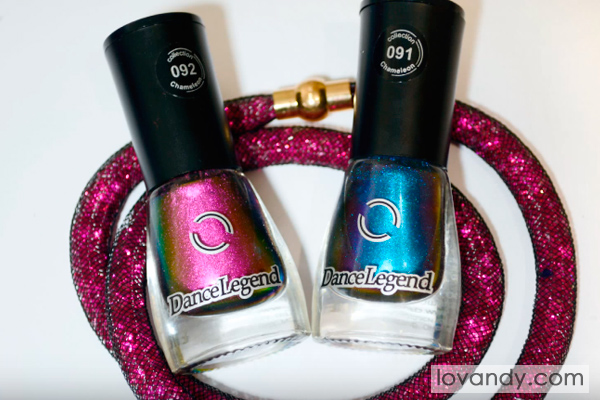 We have decided to use blue and purple colors of chameleon polishes. We believe that this color composition is one of the best variants. However, feel free to choose any other polishes, just make sure you like it.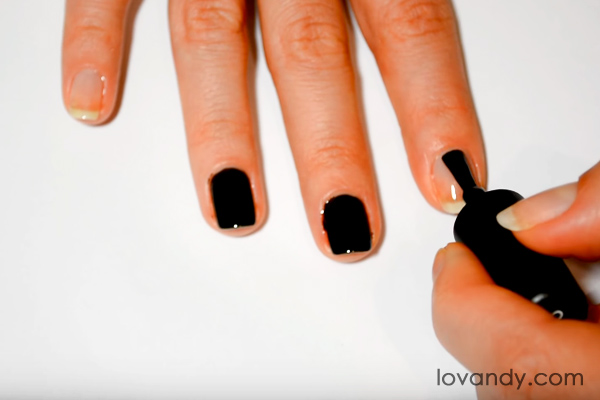 For the first step, let us do some regular preparations. Apply a base nail coat. Then put a black gel polish on each nail.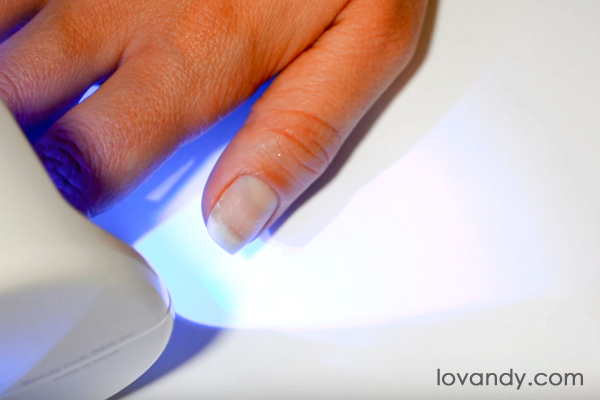 Now use your LED nail dryer. Just turn it on and put your hand under for about 30 seconds.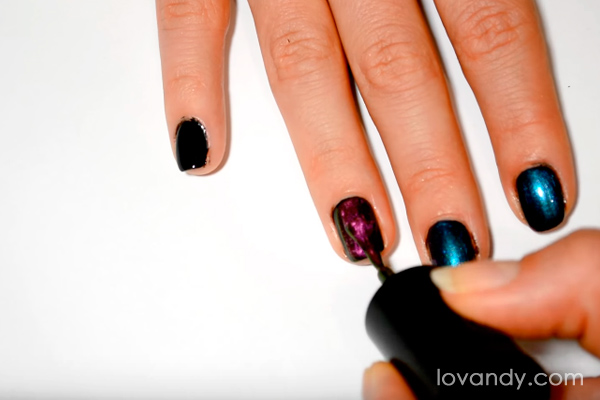 The next step is to cover your nails with two shades of chameleon polishes. After that, let polishes dry. It will take approximately 10 minutes.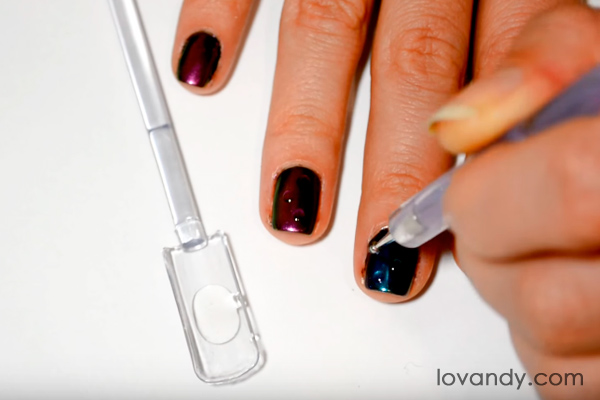 Now we will make actual raindrops on your nails. Put a droplet of a gel top coat on any waterproof surface. Grab your dotting tool and use its bigger side to apply big droplets randomly.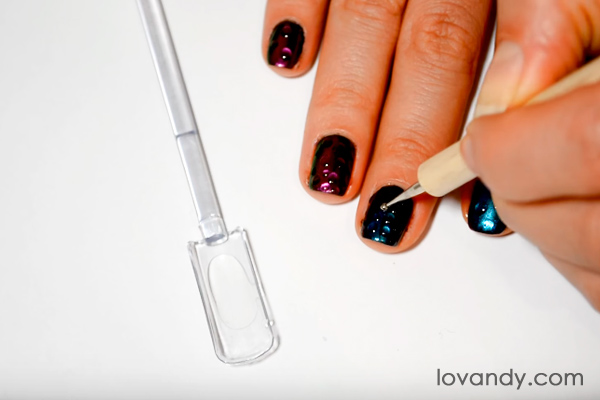 Dry big water droplets under a LED lamp for 30 seconds. Then use a smaller side of a dotting tool to apply small drops on nails wherever you want them to be.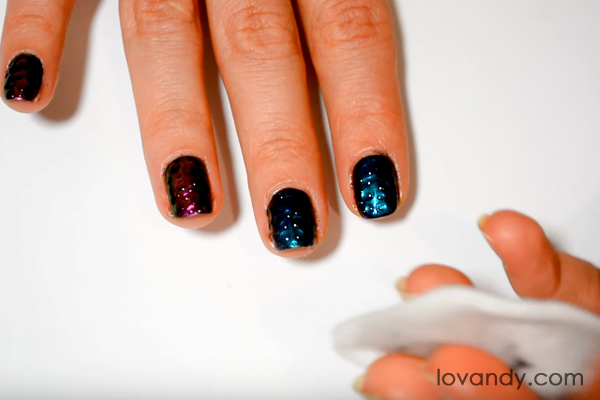 Use a cotton swab soaked in acetone to clean all the nails neatly from excess polish that is not under droplets.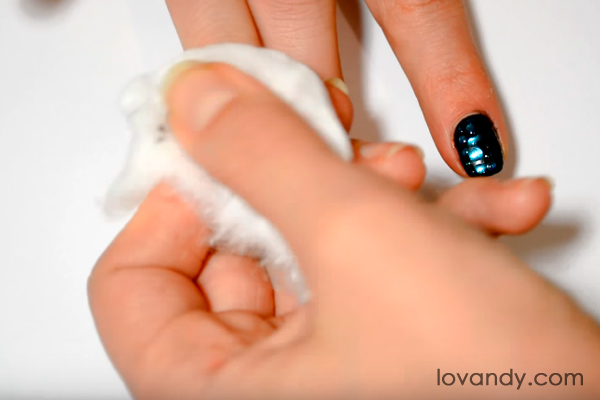 In addition, try to clean your cuticle very nice. If there are any hard-to-reach places, use a bud instead.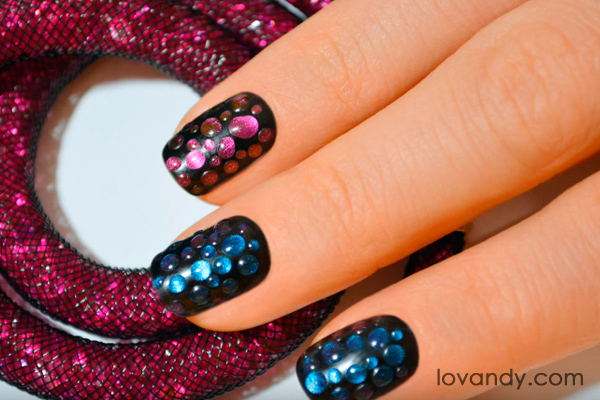 Yeah, that is it. Your manicure is ready! As you can see it from this point, this one is really easy to do. You do not need any special skills. You will not have to practice drawing or something. Some time and will are everything that is needed.
Find out more nail design ideas:
Raindrop nail design is very popular, but not much women realize how easy it is to make. That is why applying this manicure will not go unnoticed. You may use it as a simple, but beautiful addition to attires of any kind. Such interesting way of painting your nails will always fit any place and situation! Remember to share your own ideas about raindrop manicure with us.
How To Make Raindrop Nails Easy