Coconut oil is one of the most popular products in cosmetology. It is widely used in many cosmetic remedies. So, is it beneficial to use it as is, applying on hair?
Is Coconut Oil Good for Your Hair?
Coconut oil is made by pressing dried and chopped coconut pulp. This technology has been known and used since the reign of Cleopatra. Back then, rich beauties used coconut oil for hair, face skin, hands and body, as a valuable moisturizing, nourishing and rejuvenating natural remedy. This way they maintained their beauty and noble appearance.
Nowadays the use of coconut oil is no different. Even though there are thousands of different remedies for skin and hair care, this oil is still one of the best. Moreover, it is now affordable for any woman.
Numerous researches proved that the use of coconut oil before bathing, or during this process, significantly reduces the loss of protein from hair, which is often washed away with shampoo. Protein is the main building material for the structure of hair, and the loss of it leads to weakening, brittleness and hair loss.
Find out more about coconut water:
In addition, coconut oil, unlike many other vegetable oils, can distribute evenly throughout scalp, forming a kind of protective layer that prevents swelling and damage to hair during washing, toweling, combing and drying.
Using coconut oil is especially recommended for those who have dry, damaged, weakened, thinned, dull, split and brittle hair.
This is due to the excellent nutritional and regenerating properties of the oil, which help restore natural shine and strength of hair, rebuild the structure, give a light volume, softness and smoothness.
Coconut oil is also extremely useful for those who often performs perm and dyeing of hair. The oil protects head skin and hair roots and prevents leaching of nutrients.

Coconut Oil for Hair Growth
Considering mentioned, coconut oil is no doubt useful for hair growth. Your hair need a proper amount of vitamins and nutrients to start growing. Coconut oil contains a lot, but this is not the only reason. It also protects head skin from various negative impacts of environment. This means no vitamins are lost.
With a regular usage of coconut oil, your hair will start growing evenly and stay rejuvenated.
Even if you have had no problems with the growth, you will notice the difference, as the oil provides faster and ubiquitous grow.

What Kind of Coconut Oil is Best for Hair?
In order to enjoy all the useful properties of coconut oil fully, you need to choose the right product. How to do it, if the market is represented by dozens of types of coconut oils and all are at different prices? It is very simple – you need to read the information on the label. The most important thing that should interest you is the way of pressing.
If the label says 'virgin' or 'extra virgin coconut oil', this product is obtained with the technology of cold pressing. If the label says just 'coconut oil' without specifying, then you have a hot pressed product, or a mixture of refined and unrefined coconut oils.
Coconut oil is not a product you can get strictly from a tree. It must first be extracted from coconut, so from a technical point of view, no oil is 100% natural, as it presumes a certain processing. Therefore, there are only two types of pressing: hot and cold.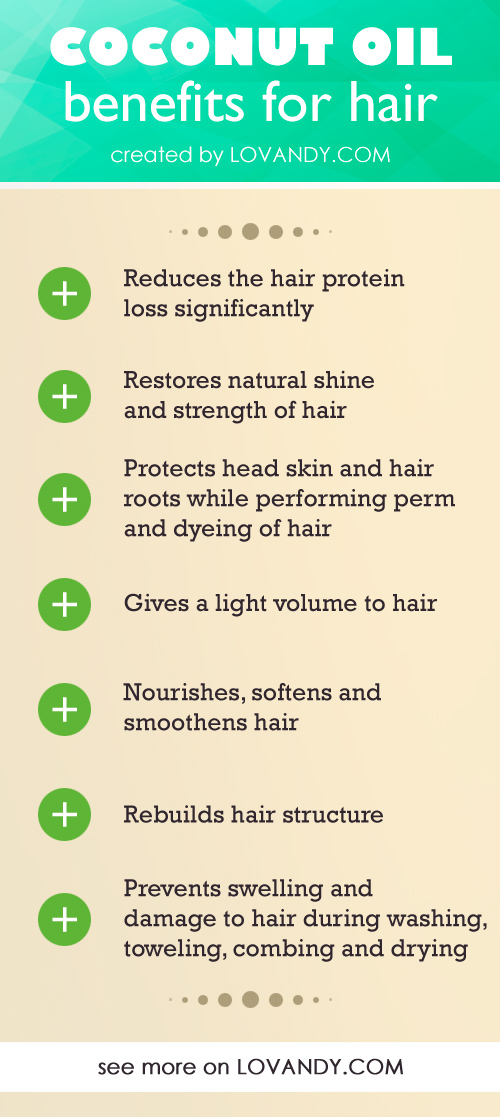 Cold pressing is gentler; it allows saving much more useful substances. Fresh coconut pulp is grinded and then squeezed with a press. Of the thousands of mature coconuts weighing 1440 kg, approximately 170 kg of pulp is obtained, from which only 70 liters of coconut oil of the highest quality is made with cold pressing.
This oil (extra virgin) is the most natural, preserving the most useful substances. However, prices are highest.
A hot or dry pressing method assumes that coconut pulp is dried in special ovens or in the sun. After that, the oil is obtained with chemical treatment or the same pressing as for a cold method. This method is of course much less delicate, which means that it does not spare the beneficial substances contained in the oil.
If you buy an extra virgin or virgin coconut oil, it is 100% unrefined.
Other oils might be refined or not. If so, the package will read 'refined'. Refined oil is often obtained from hot pressed oils. What is the refining process?
In simple terms, all the phospholipids, metals (they also exist in the oil, of course), minerals, salts, fatty acids and natural fragrances (coconut smell) are separated from the oil by heating, adding water, various acids and sodium hydroxide. The result is an oil that is stored for a couple of years longer, has a more transparent color, almost no odor, is easier to transport etc. It is an ideal product for trade, but there are not many vitamins in it.

How to Use Coconut Oil on Hair
The first way is applying coconut oil on hair as a mask for 30-40 minutes before washing. To do this, the oil should be gently melted to a more liquid state (for example, in a water bath or under a stream of warm water), then evenly distributed over the entire length of hair. Do not forget about rubbing into scalp.
It is a good idea to wrap your hair with a towel, as it will increase the effectiveness of the procedure several times.
Another way is using coconut oil as a conditioner. Hair is washed with shampoo, and then, instead of balm, it is completely lubricated with coconut oil. After 5-10 minutes, the oil is washed off with repeated use of the shampoo, and then, if necessary, a balm is applied.

How Do You Apply Coconut Oil on Hair?
It is best to do it with your fingers. Take a handful of the oil and put it on your hair roots. Then start rubbing it from roots to tips carefully. You need to cover all the hair with the oil. In addition, make sure that head skin is also covered nicely. This whole procedure might be rather dirty, as coconut oil is very fatty. Do not worry about it, as it is all natural.

How to Wash Coconut Oil off Hair?
After using it as a mask, you will need to wash coconut oil off with warm water. It is better to do it without a shampoo, so that vitamins are not leached. You may use your regular hair conditioner after that in order to enhance the effect. However, if you use extra virgin coconut oil, nothing can be better than that.
Coconut oil is truly one of the most beneficial things for your hair. It has no disadvantages, and the more you use it, the more it helps. Coconut oil contains so many vitamins, it can help restore the beauty of any kind of hair, even if you have lost hope. Comment below on how do you like using coconut oil!