Have you ever wanted your manicure to remind you of the warmth of the hearth? If so, today we will learn how to make matte checkered nails, which surely will.
Before we begin, carefully look through the list below and make sure you have everything mentioned. It is better to be prepared in advance.
So, you need:
Some clear base nail coat or a transparent polish;
Fast nail coat (for example, you may use Sashe Vite);
Bright red, vinous, black and white glossy nail polishes (for example, by Essie or China Glaze);
Matte top coat (by OPI or anything else);
Some thin paint brush for nails;
Acetone and cotton swabs in case you need to correct some details of the manicure.
Let us get started! This is the result we want. As you can see, these Christmas plaid nails look really nice and may fit to any kind of celebration you are about to have. Of course, you might use some other color combinations and ornaments (depending on what your dress color is, on your own mood etc.) We believe, however, that this one looks best and is the most suitable for New Year or Christmas party.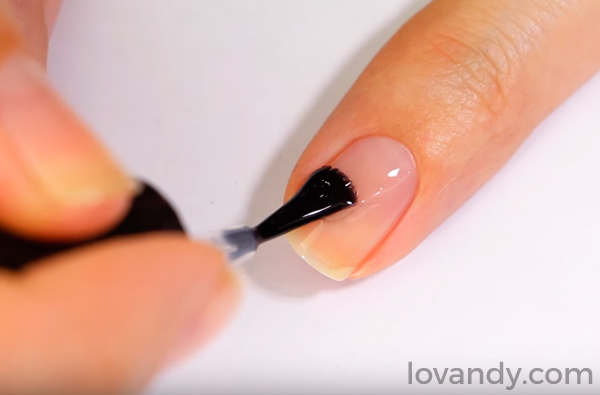 Firstly, put some clear base coat or a transparent polish to make creating plaid Christmas nails easier. This way all other polishes will stick better.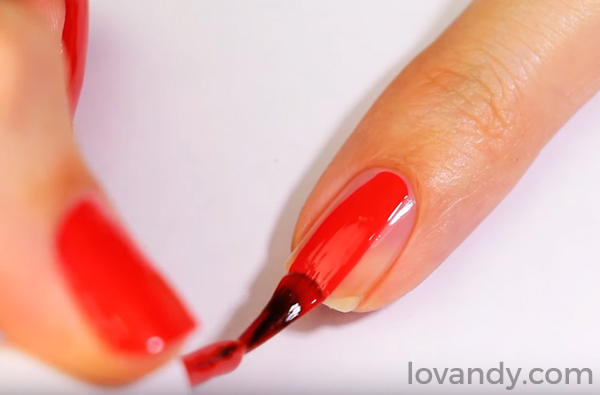 Paint all of your nails with your bright red polish, which will be the base (background) one. Needless to say, you may also use yellow, brown, green or blue colors for the basement. Try to experiment with it. However, we advise red.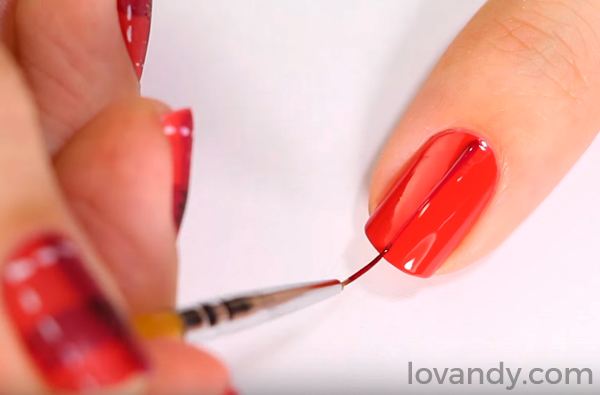 Now pick a thin brush and paint some strip with a vinous nail polish to make the basis of red plaid nails image. On this step, you have to be very precise. Make sure the line is pretty straight and thick, because we will stroke and shade it.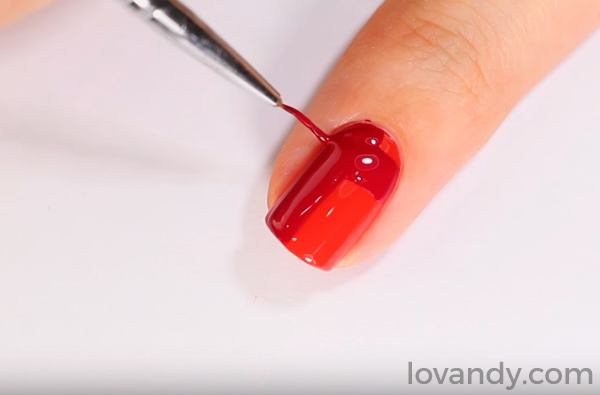 Using your brush, make the strip wider. As always, do not worry if you cannot do it for the first time. This technique is somewhat hard for newbies. Practice on a piece of paper before moving to nails.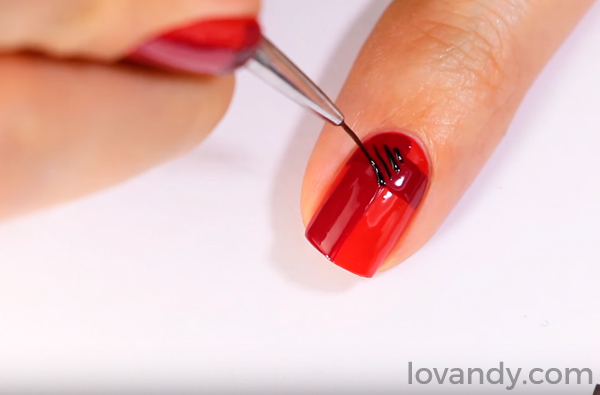 Take the black polish you have picked and draw some thin strips as you see it on the photo. Be accurate and careful, because one little mistake might ruin the look of your plaid manicure completely.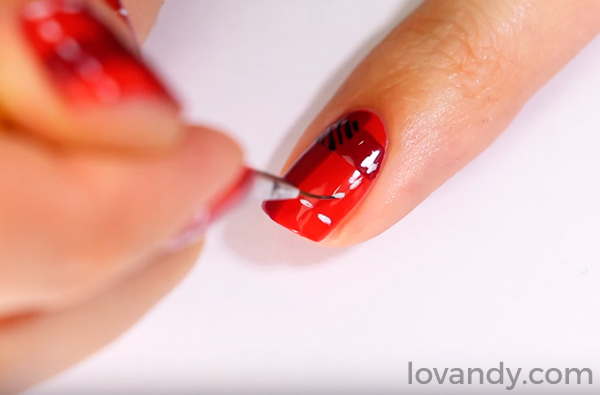 Now use the white nail polish to make such dashes. Perhaps you will need to draw one dash twice, because white polish may fuse a bit.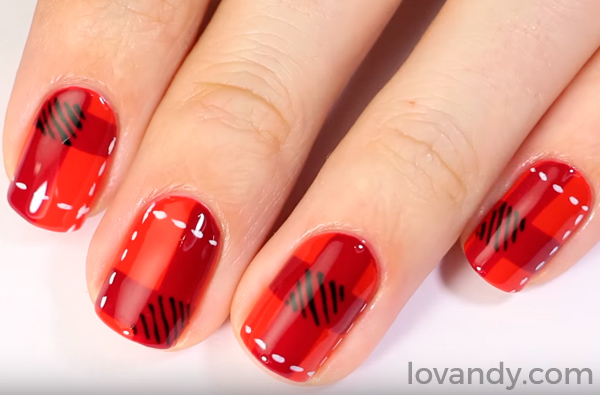 After you have painted each of your fingers with Scottish plaid ornament, and polishes have dried, cover your nails with the fast coat.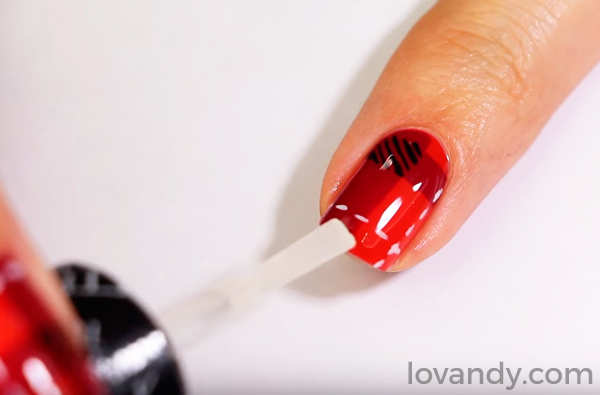 When a fast one has dried (you will see how quickly it happens), cover the whole nail with a matte coat.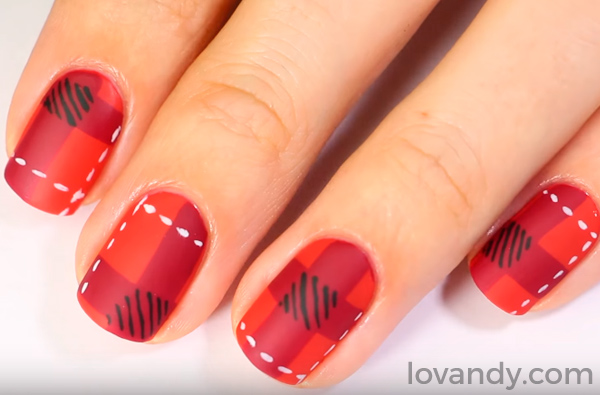 Let it dry completely… and that is all! Your Christmas checkered nails are ready for celebrations of any kind!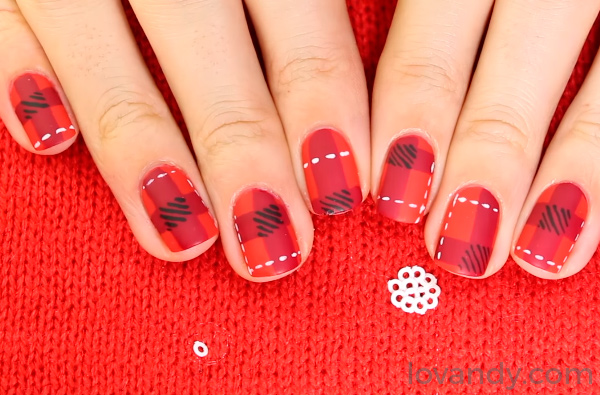 This manicure looks so nice and heart-warming, everybody will notice it, and perhaps will send you a kind smile.
Now, after you have finished your checkered nails step by step, you can see how easy and entertaining this work is. You do not have to visit expensive beauty parlors and spend much time sitting there waiting for your manicure to be done. You are the artist now! You are the one who brings some beauty in your own style!