Halloween is a spooky, but really awesome holiday. Everybody, from young to adult, enjoys these October celebrations of the night of All Saints. That is why some beautiful Halloween manicure is a nice idea to make yourself look 'frighteningly beautiful'.
Before we start our scary tutorial, go through this checklist to find out whether you have everything needed, such as:
Base nail coat;
White nail polish;
Halloween nail stickers;
Manicure scissors;
Cotton pads;
Transfer foil for nails;
Tweezers;
Acrylic paint or polishes in various colors (if you want to draw some details);
Top nail coat.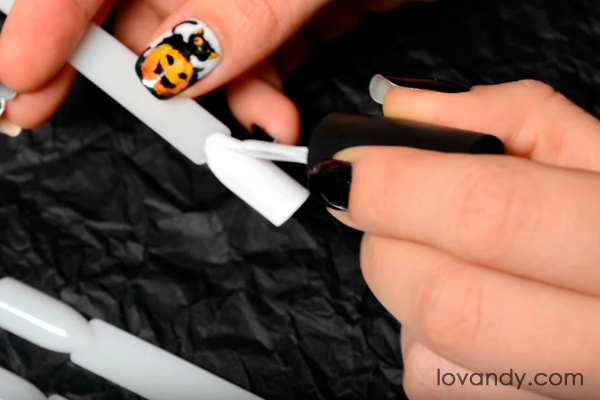 The first step will be to cover your nail with a base coat. Then paint it with a white polish. After you have done that, let the polish dry.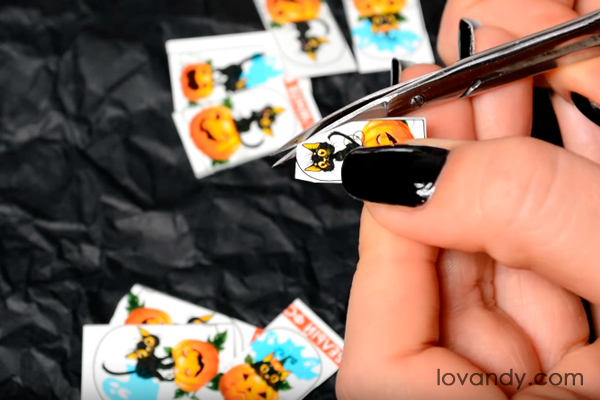 Now let us cut that Halloween nail stickers in small pieces. Make sure these pieces fit the size of your nail.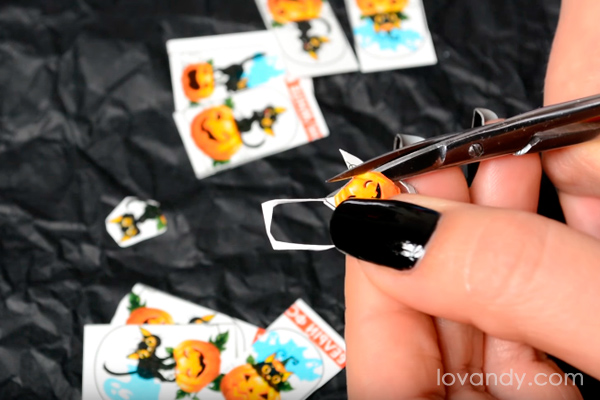 You may diversify the manicure by making interesting compositions. Just cut your stickers in many small pictures. Turn on your imagination and have fun!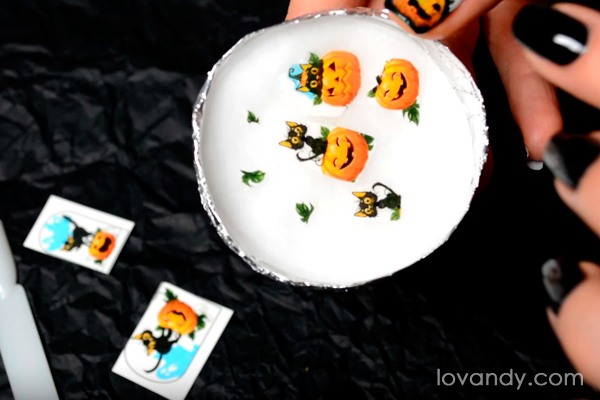 Here is a little secret on how to speed up the whole process. Put your clipped stickers on a cotton pad, soaked in water. This way they will become sticky faster. Also, you can find another technique of making nail decals manicure in our previous tutorials.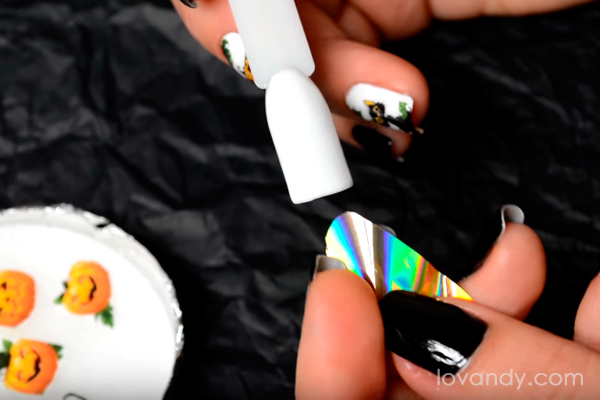 You may use a transfer foil in addition to decals. Here is how we do it. Decide where you want to stick, for example, a pumpkin. Cover that area with a base nail coat. Then put your foil there and immediately detach it.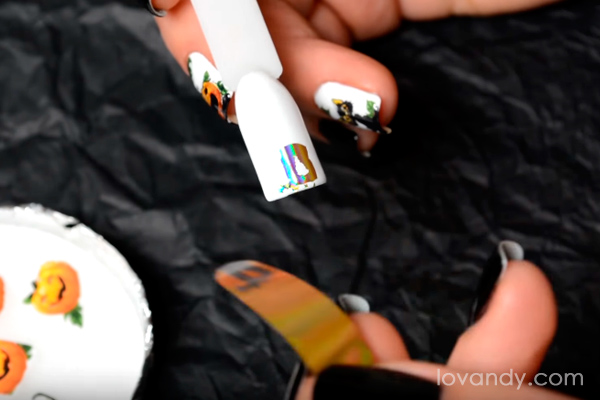 The imprint will not be accurate, but you will not see any defects after the sticker is on its place.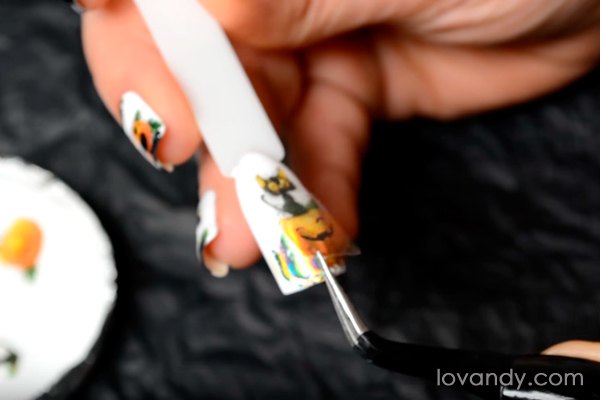 Now use your tweezers to separate the film from a picture. Stick it right where you want it to be.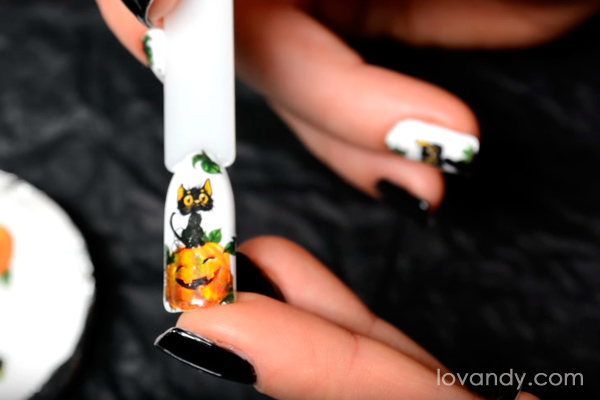 If you have some free space on your nail, put some small details there. For example, make a background with leaves.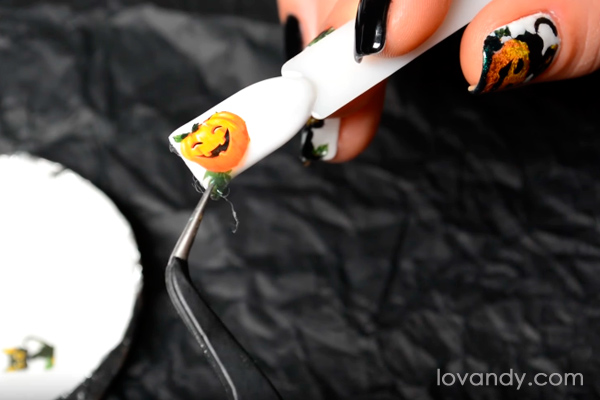 If you want to make a difference, stick a pumpkin decal on another nail without using a foil. Use your tweezers as well.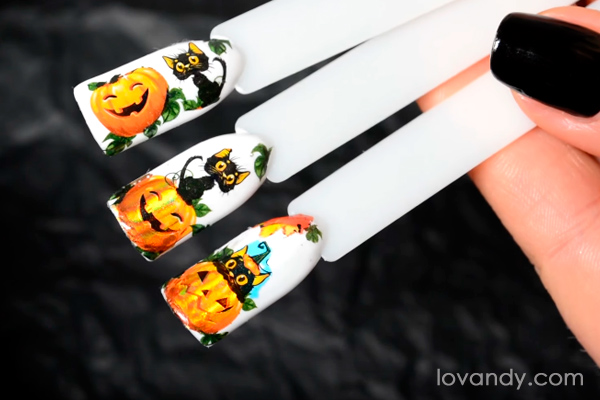 Do not hesitate to experiment on this one. This is a kind of manicure, where the only borders are your imagination.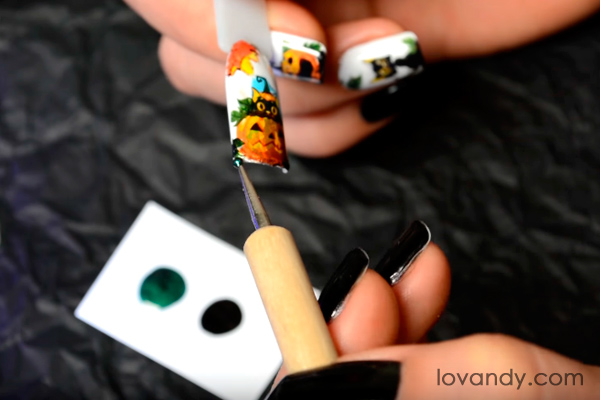 Moreover, you may draw some interesting details yourself. Just use an acrylic paint or any polish you like. This way the picture will look more volumetric. Try drawing a background too.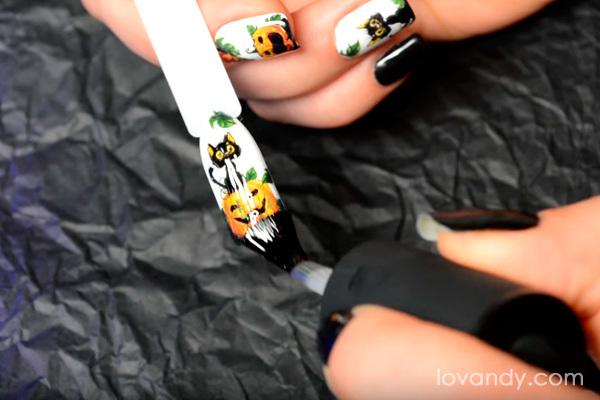 Cover all of your nails with two layers of any top coat (matte or glossy one). Pay more attention to the top of the nail. You do not want any sticker squiggles there.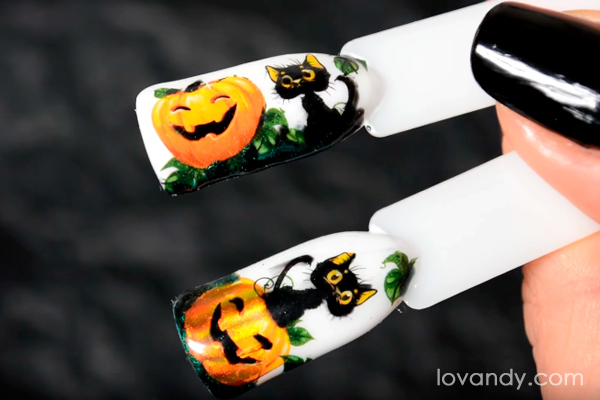 As you can see on this photo, both nails with and without a foil look beautiful and interesting in its own good.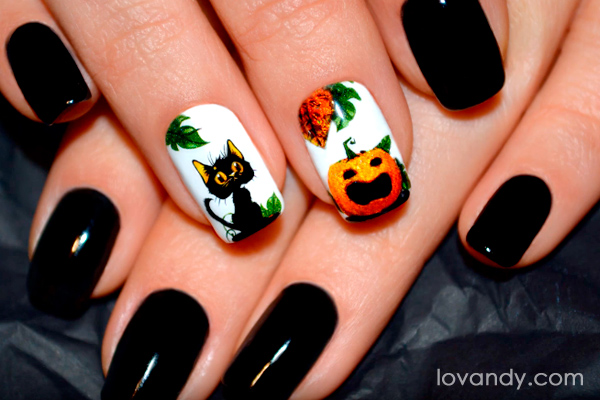 Note that your natural nails are smaller than fake ones. That is why you should be careful when choosing pictures to stick. Keep sizes of your nails in mind. Now your black halloween nails are ready to both scare and amuse! Try different combinations of stickers and acrylic paintings to find out what you like more.
Using Halloween nail stickers is a nice and easy way to make one of our cute nail designs such as Halloween nails. Some various sticker motifs may be used with your attire to complement a spooky image. The coolest thing about it is that you can actually make it as you like, combining thousands of pictures in a single look. Try it out and tell us about your favorite Halloween nail ideas!
Using Halloween Nail Decals to Make a Cute Nail Design

Source: youtube.com