The main holiday of those who is in love – Valentine's Day – is approaching. It means that the time to decorate everything around with a symbol of love – hearts – has come! Nail design trends by mid-February are persistently striving for the vday theme.
The cute pink heart nail design that we will try to make today is very delicate and will be a perfect fit for not only the Saint Valentine's Day, but also as a complement for a romantic look at any other time throughout the year.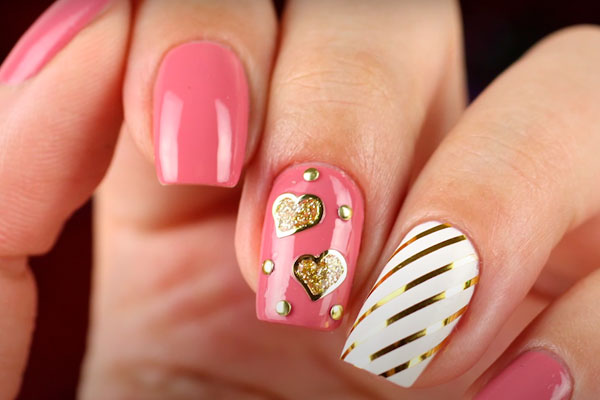 To create this cute and at the same time simple heart nail design, we will need:
base and top nail coats;
nail polishes in white, pale pink, and golden shades;
nail design tape strips in gold color;
nail design bindi – golden hearts and small rhinestones;
a thin brush;
sharp manicure scissors.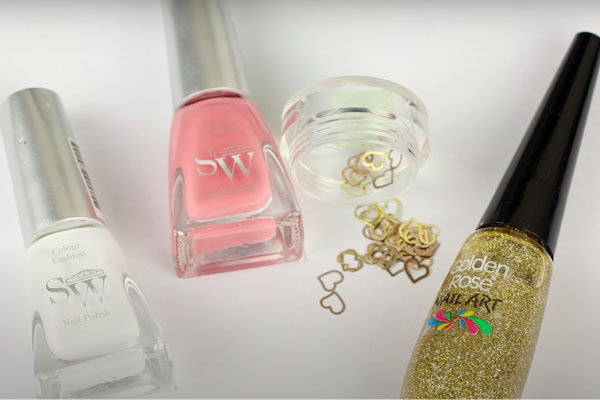 First, cover all nails with a base coat and let it completely dry. Then, apply a layer of the main color to the nails – white to the ring fingernail and pink to the rest.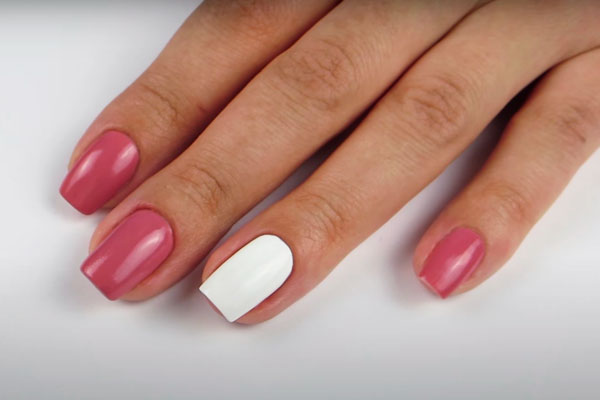 Let's start making a simple stripe nail design on a white nail. Glue several strips of golden nail tape on it in a diagonal direction parallel to each other. The distance between them should be about twice as wide as the strip itself, so we have six diagonal stripes.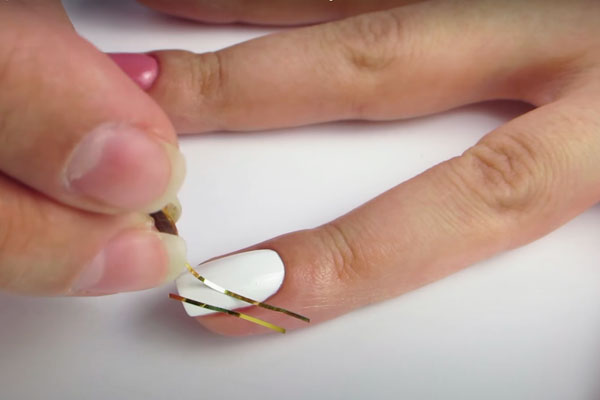 Press the strips tightly to the nail plate and cut off the protruding edges of the tape with manicure scissors. The gold stripes should go clearly from one edge of the nail to the other.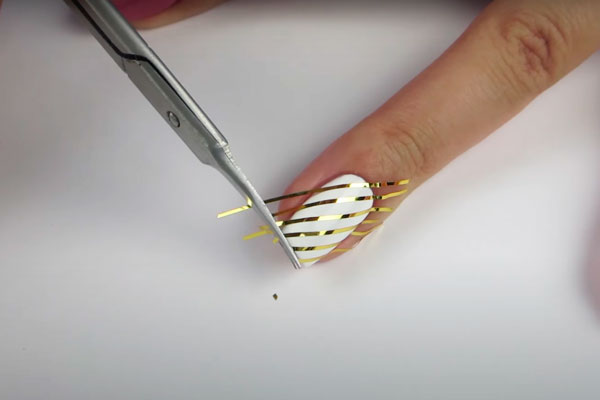 Let us move to the middle finger. In this nail design we will need golden bindi – special metal decorations for nail design, which create a stylish volumetric effect.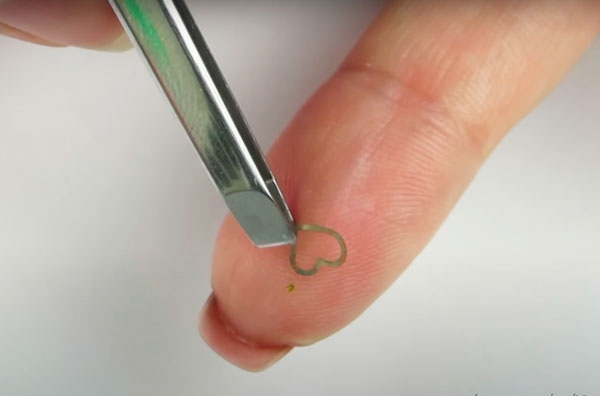 Specifically here on this nail we will use two large heart-shaped bindi. Grab them with tweezers and apply a top coat to the inside.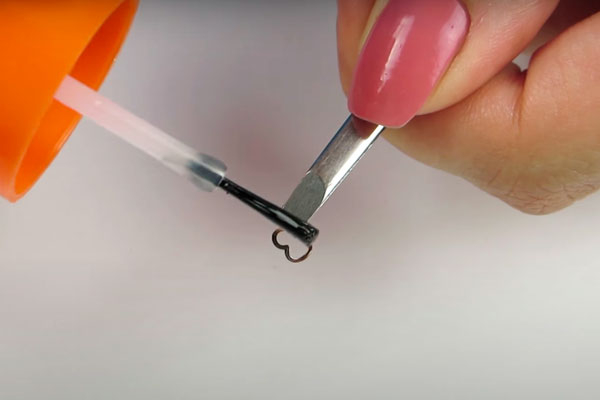 Gently glue one heart in the upper left part of the nail and press it tightly. To make the flat heart last longer, bend it slightly with a manicure stick.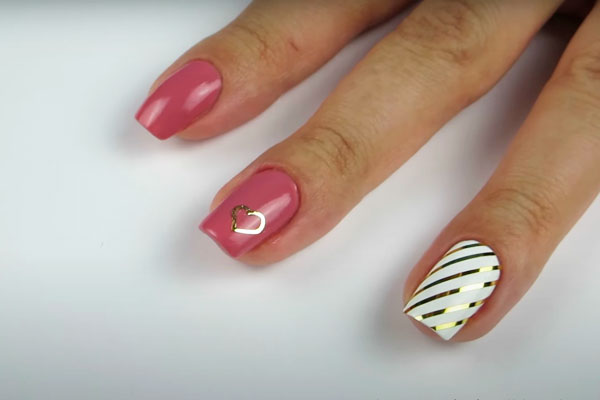 Glue the second heart in the lower right of the nail plate in the same way. Fill the inner space of the hearts with golden polish using a thin brush.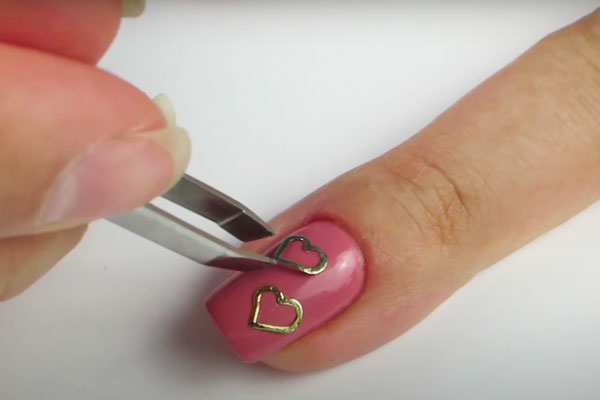 Cover the heart manicure with a topcoat. Without drying the top, glue several golden rhinestones around the hearts in a chaotic manner. We used five pieces.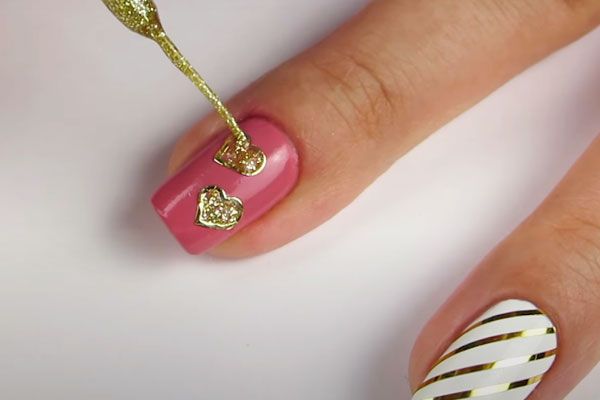 Cover all nails with a glossy top and dry it thoroughly. Such a fairly simple and at the same time cute pinky nail design will attract attention not less than the most complex professional manicure!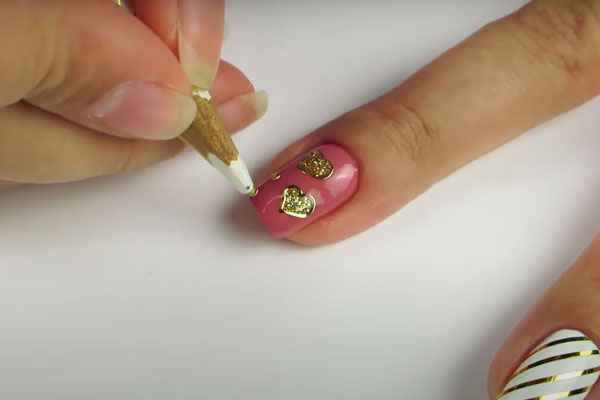 Romantic decor, nude shades, tenderness, and restraint of this design are the secrets of its appeal. Enjoy!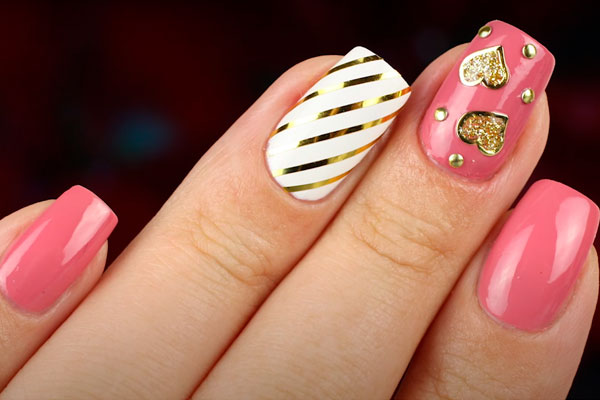 Sweet and Easy Valentine's Day Nails Art Step by Step

source of pictures: youtube.com