As Christmas holidays are almost here, you ought to be prepared for them. Today we will learn how to make gradient nails color combinations for a winter manicure.
❉ By the way, if you are interested in nail design with snowflakes: How To Make Christmas Manicure With Snowflakes.
This kind of nail art takes a lot of time and requires many materials. Before you begin the tutorial, make sure you have all this stuff:
Some base nail coat (for example, Express Growth by Broadway);
Two nail polishes: one in lilac color and the other in some darker shade (purple will be fine);
Fast dry top coat;
Glitter polish;
Some hand cream;
Cosmetic sponge;
Some wooden stick (toothpick will be fine);
Cotton buds and swabs;
Acetone;
Small piece of paper;
White acrylic paint to draw snowflakes on nails;
Thin brush for nails.
Here is what we want. Such manicure looks different and pretty. The gradient makes it extraordinary, while snowflake nails art reminds that holidays are coming. In order to paint nails this way, we are going to use some unusual technique. You will see it is not hard, but requires you to be attentive and patient.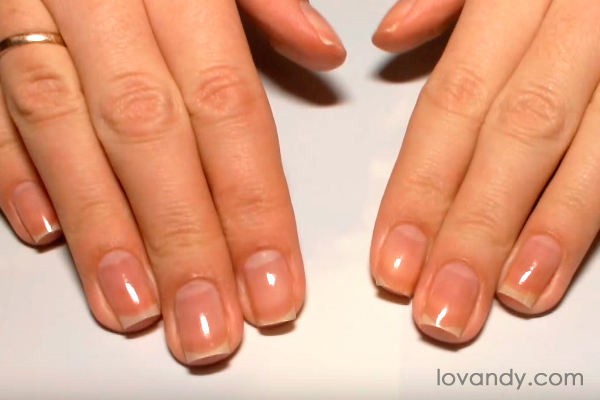 First of all, let us put the base nail coat on every nail.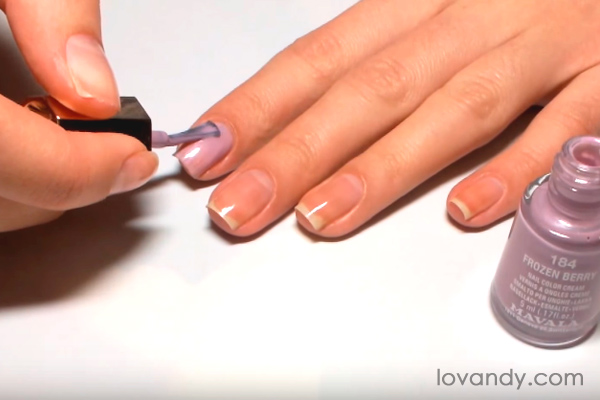 Now we will make the first layer of Christmas gradient nails. For that, just put the lilac polish you have chosen on your nails.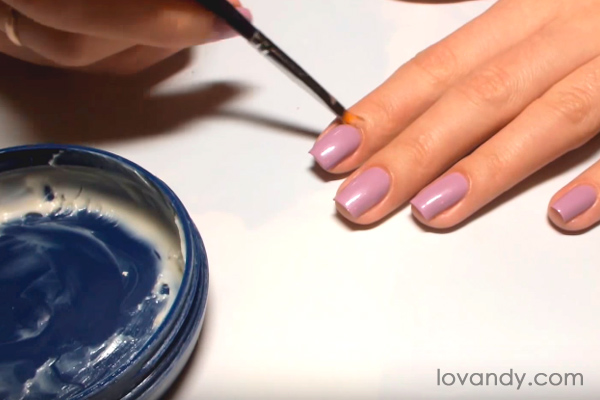 After painting your nails completely, take the cream and put it on the skin around the nail. Make sure that the polish has dried. We do this to make it easier to remove some excess polish in future.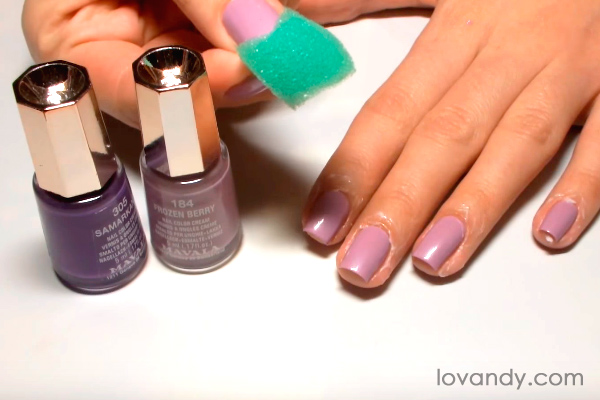 Now take the sponge, which will be used for making gradient effect. It is better to use a cosmetic sponge, but you may simply take the one from your kitchen. It is not a big deal.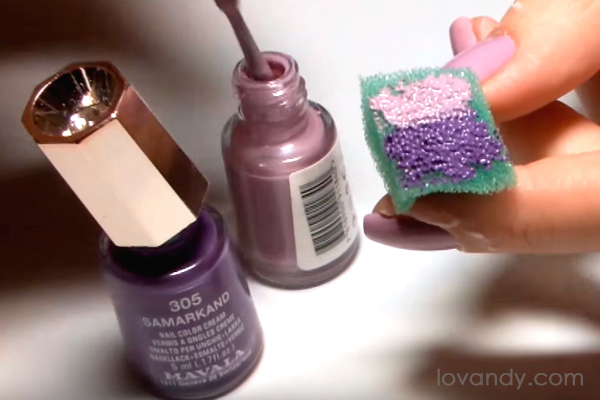 Put both lilac and purple nail polishes on a side of the sponge. Do not use too much polish, but make sure it is enough, so that the sponge is fully covered.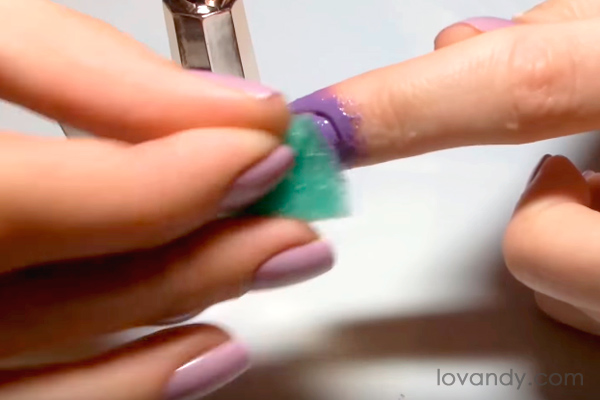 This step might be the hardest one for you. Just be accurate, and everything will be fine. Put the sponge on your nail repeatedly, just as if you are trying to dry it from some water. When the sponge touches the nail, pull it towards the top. This is the basic description of how to do gradient nails with a sponge. To achieve the best result, you should take some practice. Try doing this on a piece of paper or (which will be better) on an egg.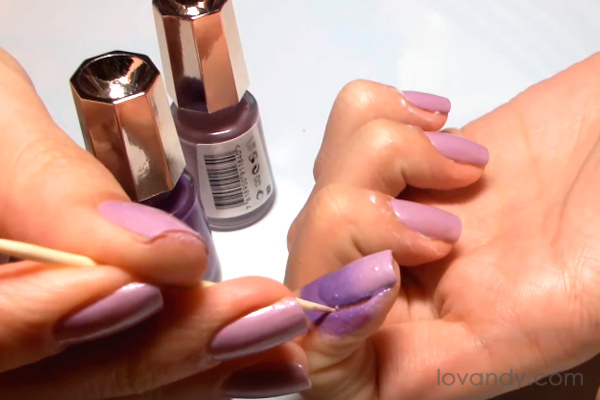 Now take the toothpick and clear the contour of your nail. It needs to be done so that polishes will not flow beneath the cuticle.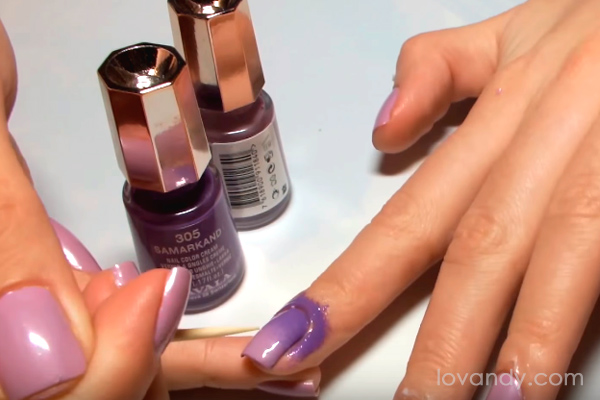 Before polishes has dried, make sure there are no bubbles on nails surface. If you find some, burst it with a toothpick or a needle.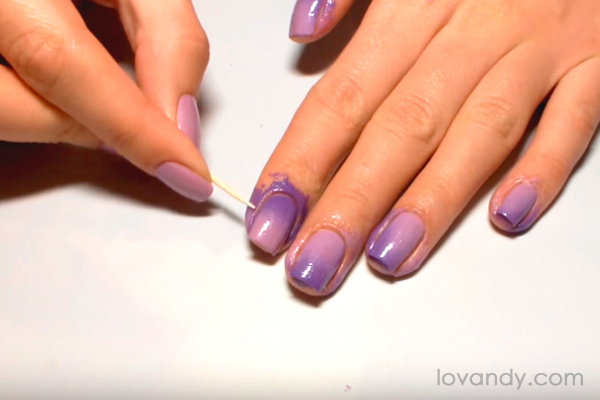 Remove an excess polish from the contour of your nails with a toothpick. After that, use some cotton buds to clear your fingers completely. Now the lilac and purple gradient is ready.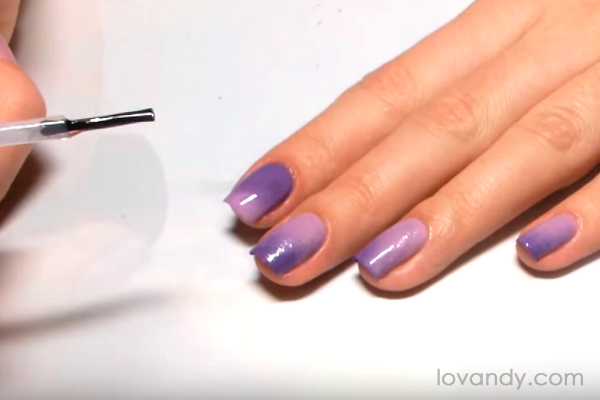 After you have done all these steps for each nail, cover them with the fast dry top coat.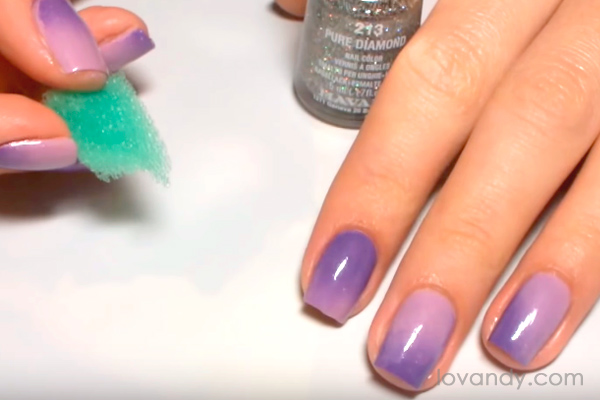 Now we want to make your lilac color nails shine. Take some other piece of sponge and put its sharp side into the glitter polish. Do not use too much polish for this.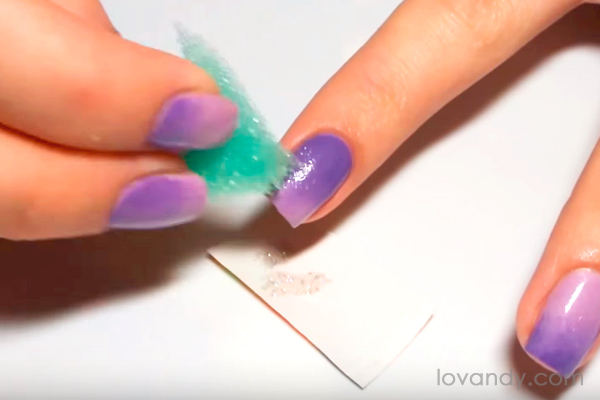 Lightly pat this side of the sponge on a piece of paper. Then put the polish on your nail, just as you have been doing it with the gradient.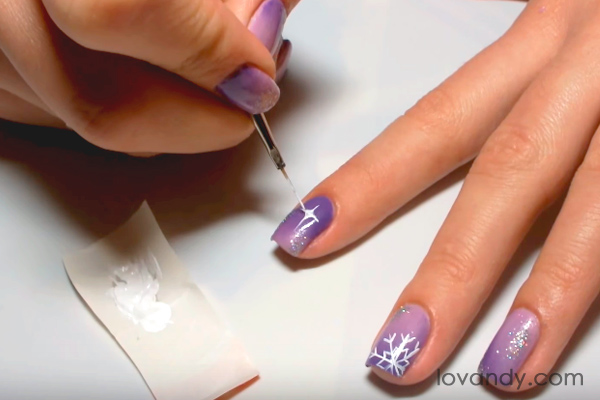 Wait until the glitter dries and you are ready to make snowflake Christmas nails. Grab the white acrylic paint and put some on a piece of paper. Now take your thin brush and draw stars or snowflakes as you like them.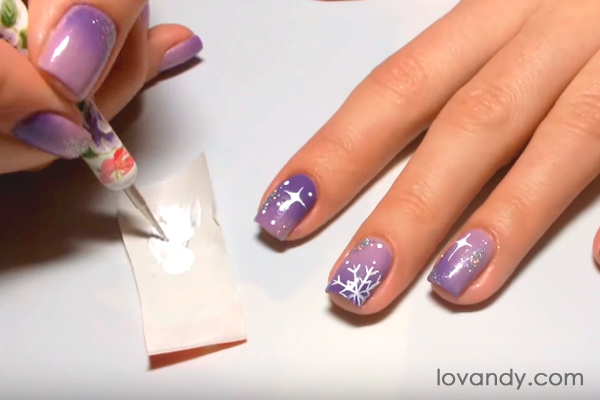 In addition, you can draw some dots with your toothpick. This step is really easy, but it makes the whole picture look deeper.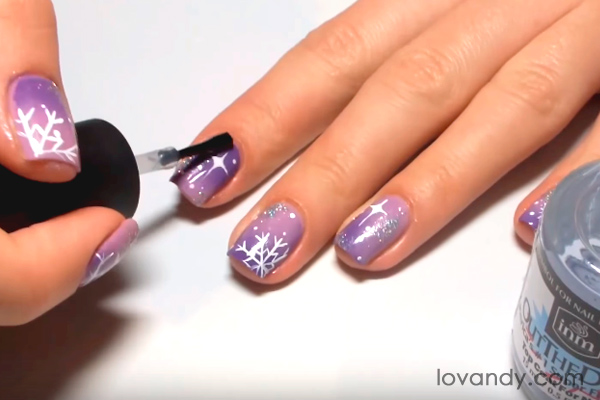 After your winter snowflake nails has dried, cover it with a top coat. Before doing so, make sure you have cleaned everything. Use some acetone and cotton swabs for corrections.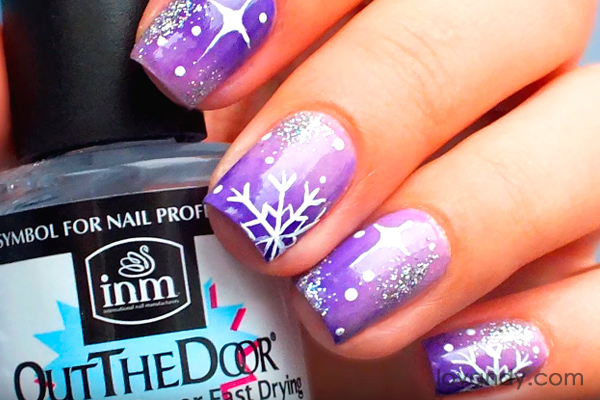 Therefore, that is it. Your nails are ready for a celebration of any kind. You may also use this manicure with an everyday winter makeup.
After we have learned how to paint snowflakes on nails, turn on your imagination and try some other colors and pictures. Perhaps, you will find something nobody has ever seen before. Anyways, it is always a pleasure to paint your nails yourself, isn't it? Besides saving some money, you gain a lot of useful knowledge and spend your time with fun!
Christmas Gradient Nails – Step By Step Tutorial