When cold days come, we always want some warmness of summer to be back for at least one day. Therefore, there is one awesome way to do so, called summer nails manicure.
Before you start colorizing your nails with some tasty fruits, make sure you have all materials you need to go through this banana nails tutorial. As this kind of manicure that we are about to do does not require too much, it will be easy to get all these:
Light blue nail polish for the background;
Black polish for contours;
Yellow polish for bananas themselves;
Brown nail polish for finish details;
Base nail coat;
Top fast dry coat;
Some thin nail brush;
Acetone and cotton buds or swabs.
Here is the result, which we want. As you can see, the whole picture is rather colorful and funny. This means you would want to use this banana manicure only in summer. However, painting your nails this way on cold days of autumn may also be interesting. If you do want everyone around you to smile and feel that summer warmness, do not hesitate to make it. Make sure, however, that your whole appearance complements it.
As we usually do, firstly put some base coat on your nails. Then paint each one of them with the blue polish twice. Just make sure the nail is completely covered with color.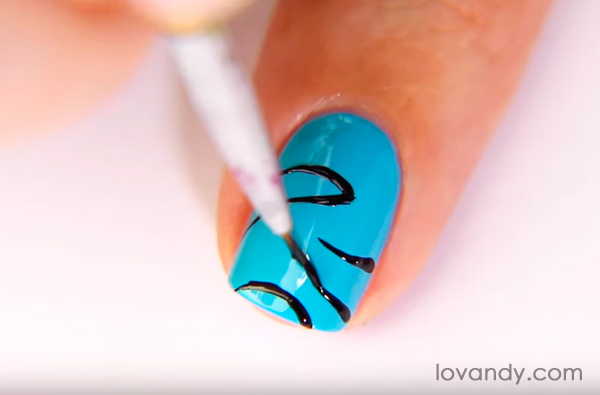 Take a thin brush and paint bananas' contours with the black polish. You need to make it carefully and precisely. Do not use too much polish, because you will have a chance to finish it further.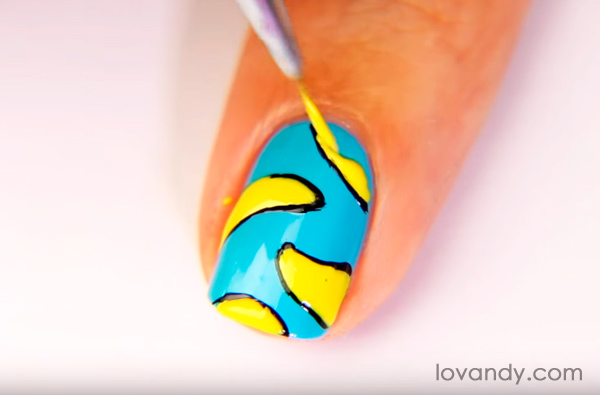 Now grab the yellow polish and fill all contours with it. You can see that this way we make your summer nails bright.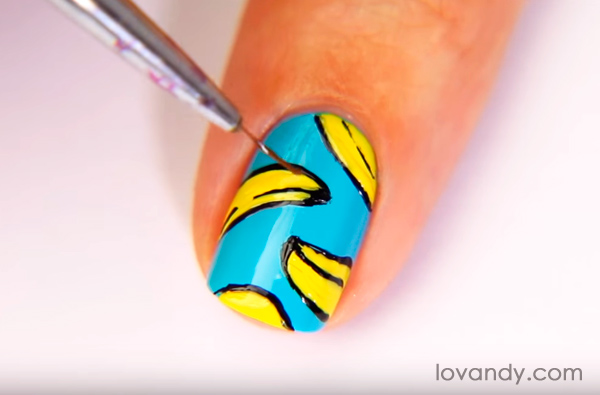 Now you may finish contours of bananas with your black nail polish. Also, be careful and try not to spoil the picture with too much polish. Then paint some black lines in a middle of each fruit to make it look volumetric.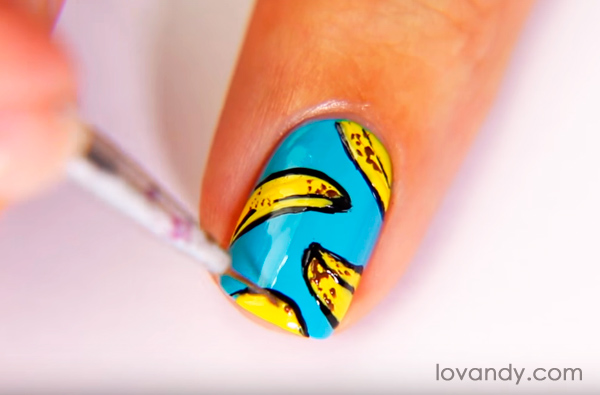 If you want to make your cool summer nails look even more realistic, put some dots with the brown polish on bananas to make them ripe.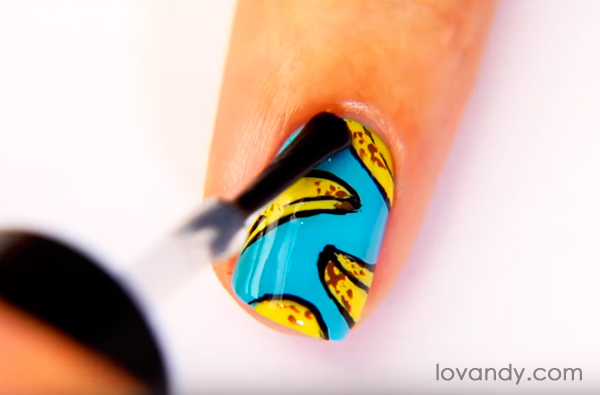 When you are done with a picture, cover it with the top coat after polishes have dried. You may also use some matte coat. This way the picture will look more like a cartoon.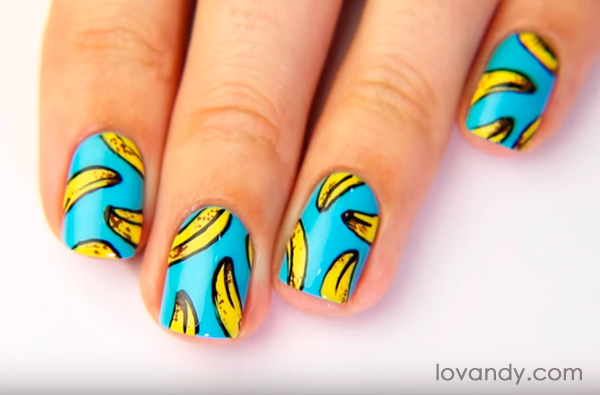 Therefore, we are done! Now you have some really unique summer nails.
This manicure is probably one of the most cheerful, vivid and lovely ones. For sure, it can light up a smile on any grim face. It looks best with some colorful dresses or swimsuits at the beach. Nevertheless, winter days could also be diversified with it. Tell us about your own summer holiday nails ideas. Maybe you have something even more awesome!
Step By Step Banana Nail Design – Tutorial For Beginners